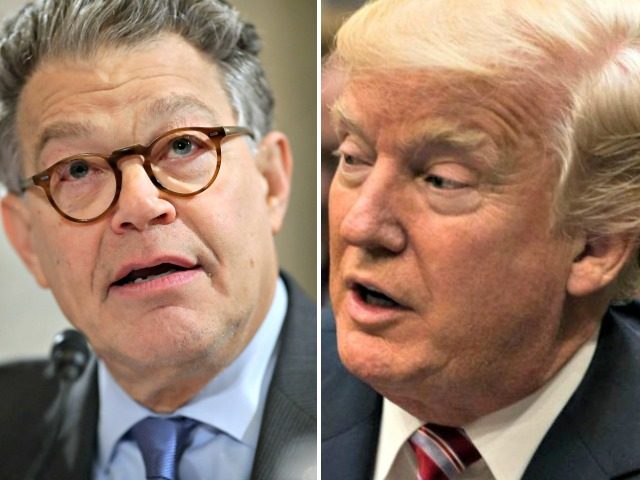 White House Press Secretary Sarah Sanders told a reporter during Friday's White House press briefing that there is a "very clear distinction" between the allegations against Sen. Al Franken and those espoused against then-candidate Donald Trump during the 2016 presidential election.
"If it's fair to investigate Al Franken and the allegation made by his accuser, is it also fair to investigate this President and the allegations of sexual misconduct made against him by more than a dozen women?" asked the reporter.
"Look, I think that this was covered pretty extensively during the campaign," replied Sanders. "We addressed that then. The American people, I think, spoke very loud and clear when they elected this President."
The reporter pressed on, asking how the two instances are different.
"I think in one case, specifically, Senator Franken has admitted wrongdoing, and the President hasn't," said Sanders. "I think that's a very clear distinction."
On Thursday, a journalist accused Sen. Franken of sticking his tongue in her mouth and fondling her chest during a December 2006 USO tour. She provided as evidence a photo of Franken stretching his hands out to touch her chest while she was sleeping. Franken apologized for the photo, saying that he had thought it was funny at the time, but that it obviously wasn't. He also stated that he didn't recall a skit rehearsal in which the journalist said that Franken stuck his tongue in her mouth.
Late in his 2016 presidential campaign, Trump faced accusations of sexual misconduct. Trump called the allegations "one hundred percent false" during a Charlotte campaign rally. One accuser alleged that he had groped her on a flight decades earlier. A witness came forward after the allegation was made, stating that he had been on the flight in question and present at all times during that flight. He stated that Trump never made sexual advances on the woman.
Follow Michelle Moons on Twitter @MichelleDiana